Thank you Shweta Madam!!!
for nominating our site for the award "Very Inspiring Blog" Award. It is a surprise new year gift for us!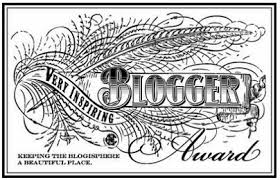 It is 4th year since we started blogging!! And this is the first award we have received and feel blessed! It is a nice gesture to get nominated from Ms. Shweta.
Even though we do not post for pride, we acknowledge the open hearted bloggers and authors.
As per the rules,
7 things about myself
(There are 3 different characters out of which, one is common and like heart for the other two i.e., the site: VelsArena.com and the other two are me and my soul. We (two) are the editor and the Administrator of the site respectively)
VelsArena.com is the site to display the domestic sporting events in Tamil Nadu

VelsArena.com is currently displaying the cricketing events in the districts of Tirupur, Coimbatore, Trichy, Thoothukudi, Nagapattinam, Dindigul and Tiruvannamalai

It is a non-profitable site

It's motto is to promote the game and encourage the domestic talents

It also enables the participants with the knowledge of laws of their respective games

It awards annually the performers of the sports. Currently awards are being given to the performers from the districts of Coimbatore and Trichy

VelsArena.com also encourages the organisers of private tournaments to promote their tournaments free of cost
And we nominate the following bloggers for this award!
We wish you a nice career ahead!!
Rules of the 'Very Inspiring Blogger' Award:
Display the award on your blog
Link back to the person who nominated you
State 7 things about yourself
Nominate 15 bloggers, link to them, and notify them about their nominations
Even though We have lot of friends in our Network it was not possible to link all of them! Kindly bear with us and we are there in your supporters' arena ever!
All the very best! Keep blogging!!