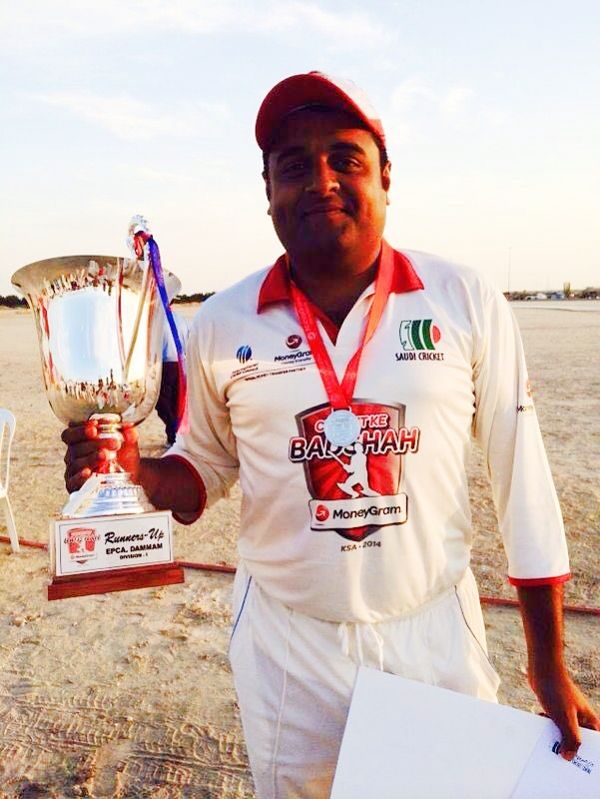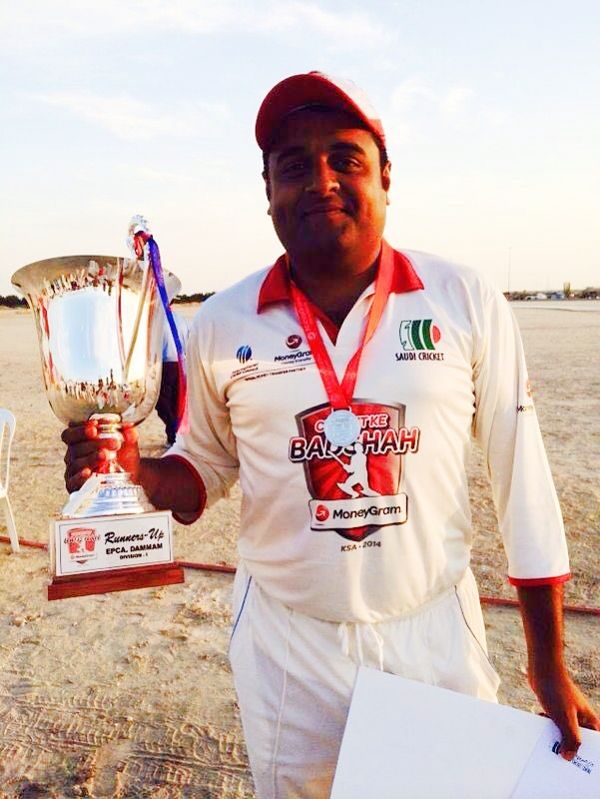 Story Highlights
Faiz, Ali Rizwan, Khalid Farooqui, Mohammed Ijaz scored half century
Owais Shaikh hit 85 and took 3 wickets
Kashif scalped 4 wickets
Tournament: AlTurki Main League First Division
Flash: Owais Shaikh lead Karachi Strikers to victory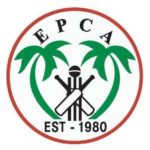 MATCH REPORT
In the Eastern Province Cricket Association (EPCA) – AlTurki Main League First Division match, AlSehan Karachi Strikers beat Khan XI by 1 wicket
Favorites Khan XI lost to AlSehan Karachi Strikers by 1 wicket. Batting first as usual Khan XI opener Murad and Faiz (60) started the innings in a whirlwind fashion. However it was the experienced

Mohammed Owais Shaikh, AlSehan Karachi Strikers

Ali rizwan (60) and Salmanuddin (44) who helped Khan XI to post a formidable total of 316 runs. Farruk Jawed and Mohammed Owais claimed 3 for 69 and 3 for 65 respectively. Chasing the target, Karachi Strikers lost three quick wickets. Khalid Farooqui (50), Mohammed Ijaz (56) Qaisar Mansoor (36) and it was the captain Mohammed Owais's vintage and unbeaten 85 took the team past the target in the last ball of the game. For Khan XI Salmanuddin claimed two wickets.
MATCH REPORT
In the Eastern Province Cricket Association (EPCA) – AlTurki Main League First Division match, Saudi Diesel beat Emerald Ashes by 1 wicket
In an low scoring encounter Saudi Diesel pipped through Emerald Ashes. Saudi Diesel posted a meagre 200 on board mainly with their captain Tahir Hafeez's knock of 49 and Yasir Mahmood's 37. Rajesh, Fahad and Rajeesh claimed two wickets each for Emerald Ashes. Replying to 200, Emerald Ashes scored fast during the power play scoring 53 runs in 6 overs for the first wicket. Rajesh Radhakrishan as usual scored a quick fire 46 in 28 balls. But once when Rajesh was sent back the bowlers of Saudi Diesel took charge. Make shift bowler Kashif Ashraf's bowling was clueless to Emerald Ashes Batsmen they just curbed to his bowling. Kashif claimed 4/13 and Anwar 3/42 restricted their opponents to just 132 runs.