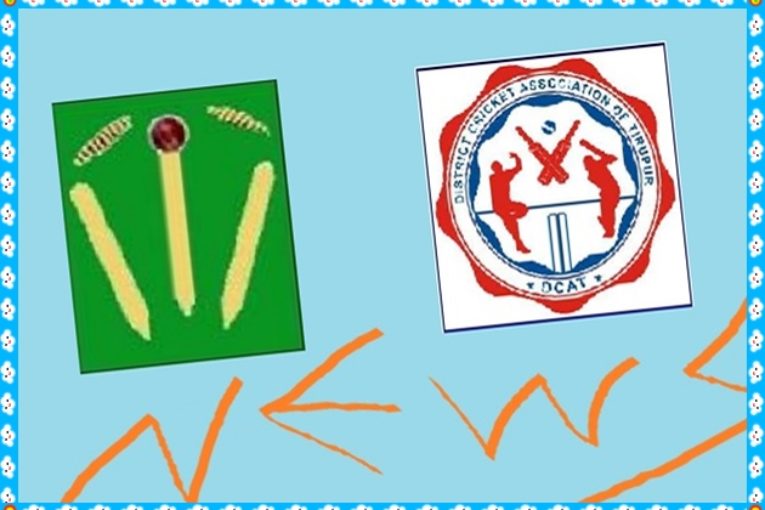 Welcome to our News Section!
DCAT Summer Camp Selection
DCAT (District Cricket Association of Tirupur) conducts a Selection Trials in the following age categories for participating in the DCAT Summer Camp 2018 which is scheduled to start from 17.05.2018 to 31.05.2018. DCAT Summer Camp will be of 2 sessions (one in the morning and another in the evening) for 15 days in the month of May 2017.
Selection Trials
On 15.05.2018 (Tuesday) at 07.00 A.M – for Age Group Under 13 
On 15.05.2018 (Tuesday) at 09.00 A.M – for Age Group Under 16
On 15.05.2018 (Tuesday) at 03.30 P.M – for Age Group Under 19
On 15.05.2018 (Tuesday) at 04.30 P.M – for Age Group Under 23
Cut Off dates for Age Group
For Age Group Under 13 – Date of Birth on or after 01.09.2005
For Age Group Under 16 – Date of Birth on or after 01.09.2002
For Age Group Under 19 – Date of Birth on or after 01.09.1999
For Age Group Under 23 – Date of Birth on or after 01.09.1995
The Selection is open to all the cricketers of Tirupur District. The interested and eligible players are requested to report at TEA Public School Ground, Anaipudur on the day at least half an hour before the scheduled time of selection. The players should be in proper cricketing attire with their own kit for Selection with the proof of date of birth (Birth Certificate)
For more details contact
K. Chellamuthu, Jt. Secretary @ 8940038018
N. Velmurugan, Manager @ 9344207615